Today, Infocus presented the Starlight Children's Foundation with a cheque for $8340.50.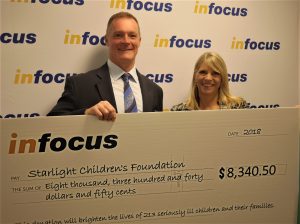 Speaking at their national head office on the Sunshine Coast, Infocus Managing Director Darren Steinhardt said "As Financial Advisers, we work hard to make a positive difference in the lives of our clients.  Today, with the Starlight Foundation, we have been given the opportunity to also make a positive difference in the lives of seriously ill children and their families".
Steinhardt added, "The values of the Starlight Foundation and the amazing work they do really resonates with our team and with our financial adviser network.  We are incredibly proud to offer this donation today".
Accepting the cheque, Tracey Tomlin, State Partnerships Manager of Starlight Foundation said "With this generous donation from the Infocus team, we will help brighten the lives of 213 seriously ill children and their families! Thank you Infocus."
Tomlin continued "We rely on support such as this to help us deliver our in-hospital and community programs and we would not be able to do what we do without amazing organisations and individuals like you all".
The Infocus team voted to select Starlight Foundation as their Charity of the Year and the cheque represents donations made in the past 12 months by Infocus staff through their fortnightly salary giving option, as well as money raised through fundraising initiatives with the nationwide network of financial advisers licensed through Infocus.